FEATURES
1/6 scale chassis design is based on the proven SCX10™ III
Metal gear transmission comes configured for two speeds with high and low gears
Durable three-link front and four-link rear suspension provides optimal handling
AR90 axles feature metal ring and pinion gears
Replica V8 engine cover adds to the realistic appearance
Spektrum™ DX3™ 2.4GHz DSMR® radio provides superior range, response, and interference resistance and is compatible with Smart technology
Spektrum™ Firma™ 120A Smart Brushless Crawler ESC feeds telemetry data to the DX3™ transmitter in real time
Includes a powerful Spektrum™ S905 high-torque, large scale steering servo (also accepts larger 1/5 scale servos with the included adapter)
Modernized Honcho body with rear tube cage includes interior detail
High-traction, 7″ tall, officially licensed Falken Wildpeak M/T tires are mounted on officially licensed Primm Black Rhino beadlock wheels
2-Year limited warranty (see product manual for details)
OVERVIEW
The 1/6 scale Axial® SCX6™ platform has taken RC rock crawling into a whole new dimension, armed with a huge amount of detail and high-performance functionality. Now, Axial has expanded the SCX6 lineup with an exciting 1/6 scale version of the insanely popular Honcho™. Whether you're a fan of the original SCX10™ Honcho, a rock crawling enthusiast, a large-scale aficionado, or all of the above, the Axial SCX6 Honcho 4WD RTR is sure to please. It's the biggest, baddest RC rock crawler ever!
The SCX6 Honcho is engineered for extreme durability and performance, as shown by its AR90 axles with metal ring and pinion gears and front offset pumpkin. For optimal handling, the chassis has a three-link front and four-link rear suspension setup and metal links are used at all suspension points. The transmission offers high and low gears out of the box, with a Spektrum™ S614 metal gear high-torque servo included and installed for the two-speed linkage.
Molded from high traction compound with an aggressive tread pattern, the massive, 7″ tall, officially licensed Falken Wildpeak M/T tires provide excellent grip and ground clearance over dirt, rocks, and all other off-road surfaces. They're mounted on officially licensed Black Rhino Primm beadlock wheels for easy removal and replacement without gluing.
With the included Spektrum DX3™ radio, you'll enjoy the superior range, response, and interference resistance of exclusive DSMR® technology. Together with the installed Firma™ Crawler 120A Smart Sensored-Brushless ESC, it also comes ready to deliver the telemetry advantages of exclusive Spektrum Smart technology. Install a Spektrum Smart LiPo battery and you can view vehicle battery capacity on the transmitter's voltage level indicator. Outfit the DX3 with the optional BT2000 Bluetooth module, download the free Spektrum Dashboard app to your smart device, and you're ready to use more real-time Smart telemetry without needing on-board sensors or modules.
Measuring over 2-1/2 feet long and topped off with a modernized Honcho body, the Axial SCX6 Honcho 4WD RTR is the rig that will take your rock crawling and climbing adventures to an exciting new level. Just add your choice of suitable battery and aim for the top!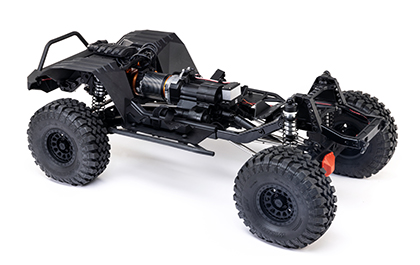 SCX10™ III Based Chassis Design
Inspired by the proven SCX10 III, the SCX6™ platform follows a similar design while increasing the size to meet large scale needs and expectations.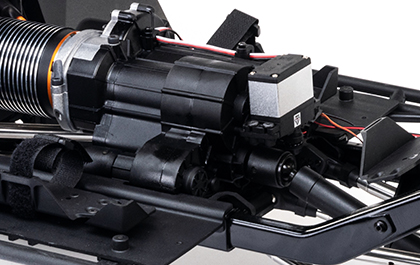 2-Speed Metal Gear Transmission
Out of the box, the SCX6™ Honcho™ 4WD RTR is configured for two speeds with high and low gears. A Spektrum™ S614 Metal Gear High-Torque Servo is included for the two-speed linkage. This feature provides a true crawling gear ratio while also allowing you to shift for more speed.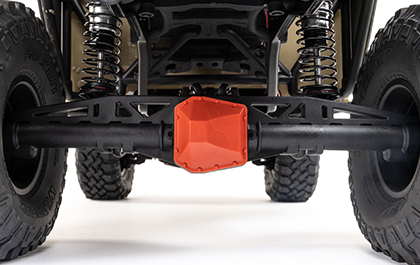 AR90 Axles
The AR90 axles feature metal ring and pinion gears with a front offset pumpkin. The 3-piece front axle accommodates optional aluminum carriers and steering knuckles. "Hi-steer" steering knuckles raise the steering tie rod for increased ground clearance. The rear axle can be set up for optional rear steering.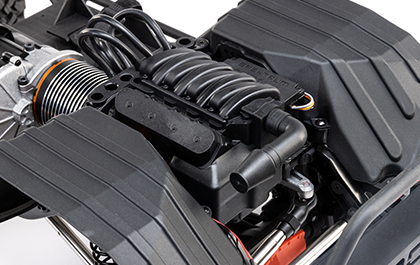 Replica V8 Engine Cover
The molded engine cover captures the look of a modern V8 engine. It not only enhances the scale realism but also serves as the ESC mount and receiver box cover.
3-Link Front/4-Link Rear Suspension
The SCX6™ suspension geometry matches the SCX10™ III with metal links used at all suspension points for durability.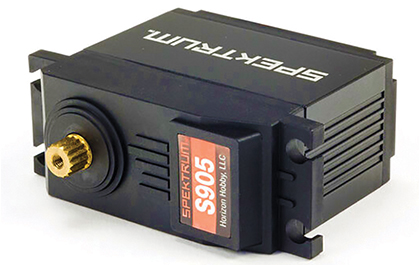 1/6 Scale Steering Servo
Steering is controlled by a Spektrum™ S905 high-torque, large scale servo. The servo mounting location will also accept an optional 1/5 scale servo if you choose to modify your rig.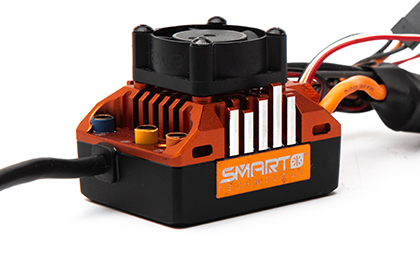 Spektrum™ Sensored Brushless Rock Crawling ESC
Included and installed, the Spektrum Firma™ 120A Smart Brushless Crawler ESC provides throttle input to the massive Firma 1200Kv Sensored Brushless Motor. The motor itself weighs in at 1.75lb (.780kg) and gives this beast enormous power and realism!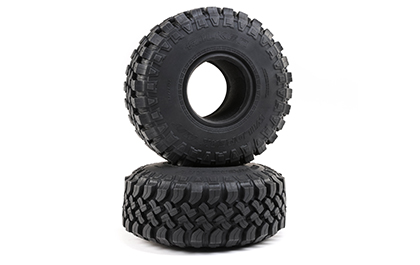 Officially Licensed Falken Wildpeak M/T Tires
The 7″ tall, officially licensed Falken Wildpeak M/T tires are molded from a high traction compound and feature an aggressive tread pattern. They provide excellent grip and ground clearance over dirt, rocks, and other off-road surfaces for nonstop climbing and crawling.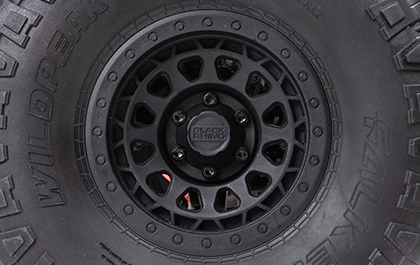 Officially Licensed Black Rhino Primm Beadlock Wheels
The SCX6™ Honcho™ crawler's officially licensed Black Rhino Primm beadlock wheels add realism and allow easy tire removal and replacement without gluing.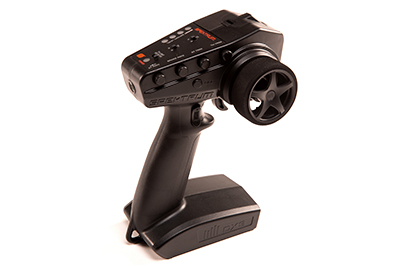 Spektrum™ DX3™ Smart Transmitter
The included DX3 Smart transmitter and installed Firma™ 120A Smart ESC provide Spektrum Smart technology benefits — like showing the real-time power status of your on-board Smart LiPo battery — plus third channel operation of the vehicle's two-speed transmission.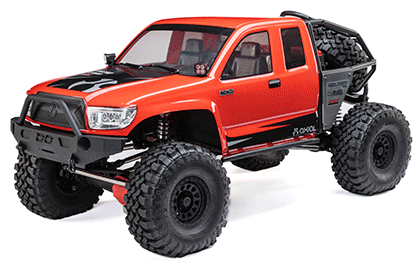 Honcho Cab Body with Interior
The "modernized" version of the original Honcho body includes a truggy-style rear tube cage with a usable spare tire, functional recovery boards, and even a box that can store tools or spare parts! Interior detail adds to the realism.