FEATURES
Spektrum® 3-Channel DX3™ 2.4GHz DSMR® radio and SR6110AT Receiver with AVC® (Active Vehicle Control™)
Compatible with Spektrum® Dashboard™ app for iOS or Android
ARRMA® ADS-15M Waterproof Servo
Spektrum® Firma™ 150A Smart ESC
Spektrum® Firma™ 4074 2050Kv Brushless Motor with Safe-D input gears
Muscle car handling with regular front and larger rear tires
Front and rear gearbox ratios matched to tire sizes
Customizable scale muscle car looks
Includes interchangeable accessory kit and decals
Multi-part undercut body design
Adjustable front and rear body mounts
Aerodynamically adjustable wing
3mm Plate, 6061-T6 anodized aluminum chassis
Center brace for maximum durability
Heavy-duty drivetrain with durable steel driveshafts throughout
High-speed center driveshaft support
Three oil-filled metal gear diffs
All-metal diff outdrives and gearbox internals
Oil-filled, adjustable, anodized aluminum shocks
Black-anodized aluminum front and rear shock towers
Front bumper and splitter
Rear diffuser with exhaust detailing
Waterproof* receiver box
Large battery trays
Five-spoke wheels
Durable wheel hubs
dBoots® Hoons™ all-road tires
2-year limited warranty (see manual for details)
* For details on waterproof standards, please refer to the product instruction manuals
OVERVIEW
Inspired by the muscle cars that shaped the American auto industry in the 1960s and 70s, the 1/7 scale FELONY™ 6S BLX 4WD RTR tops off a tough and powerful ARRMA® brushless platform with stunning retro style — ideal for intermediate-level drivers who are eager to experience street bashing or drag racing at 80+ MPH speeds (achievable in optimum conditions using a 6S LiPo and the included speed pinion gear). With its sleek muscle car body and large rear tires, the FELONY™ 6S BLX looks right at home blasting at high speeds on-road, over dirt roads and on oval tracks.
The multi-part, undercut muscle car body design with an aerodynamically adjustable wing delivers standout street bashing style. It can also be customized with the included accessory kit and decals to provide scale muscle car looks the way YOU want them. The FELONY™ 6X BLX Street Bash RTR's eye-catching appearance extends to the realistic 5-spoke wheels mounted with dBoots® Hoons™ all-road tires. For authentic muscle car handling, ARRMA® engineers have included regular front and larger rear tires, with the front and rear gearbox ratios matched to the tire sizes.
Underneath those streamlined Street Bash looks is a chassis which proves to the world, once again, that ARRMA® builds the most durable bashers. The 6061-T6 anodized aluminum chassis houses a heavy-duty drivetrain with steel driveshafts plus all-metal diff outdrives and gearbox internals. Its toughness is reinforced with a center chassis brace. The adjustable, oil-filled, anodized aluminum shocks are mounted on strong, black-anodized aluminum shock towers. Push the throttle to the max — the FELONY™ 6S BLX Street Bash RTR is made to take it.
Speaking of throttle…ARRMA® has equipped the FELONY™ 6S BLX Street Bash 4WD RTR with the 3-channel Spektrum® DX3™ radio and an SR6110AT receiver featuring AVC® (Active Vehicle Control™) technology for high-speed stability. A convenient voltage level indicator is built into the transmitter which lets you easily track on-board Smart battery power. The vehicle's brushless power system also features Spektrum® Firma™ Smart components, so it's easy to receive real-time updates of ESC temperature, receiver (BEC) voltage, drive pack voltage and motor RPM. Just download the Spektrum® Dashboard™ app for iOS or Android, available for free at the App Store or Google Play.
VIDEO OVERVIEW
CLASSIC MUSCLE
Awesome resto-mod muscle car styling
CUSTOMIZE YOUR RIDE
Change the look of your model with the included engine intake and cooling accessories pack.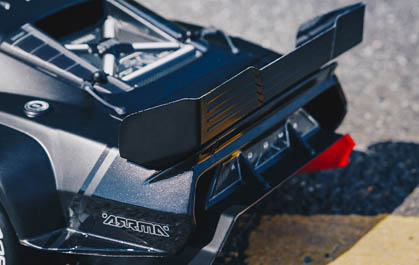 TUNABLE AERO
Tune your wing's aerodynamic stability how you want it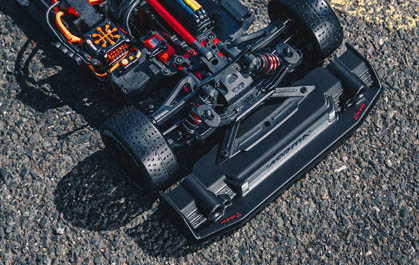 DUAL-PURPOSE
Front splitter adds downforce and stability. Highly detailed bumper adds awesome ARRMA looks
ALL-ROAD AGGRESSION
dBoots HOONS tires designed for extreme all-road action. Classic 5-spoke wheels.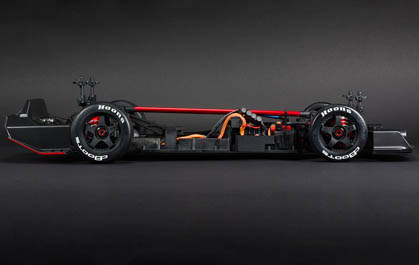 BIGGER TIRES IN THE BACK
Wider and larger diameter rear tires add to the resto-mod muscle car style. Front and rear gearbox ratios are matched to the tire size.
WELL SUPPORTED
The included center driveshaft high-speed support set prevents vibrations and increases drivetrain durability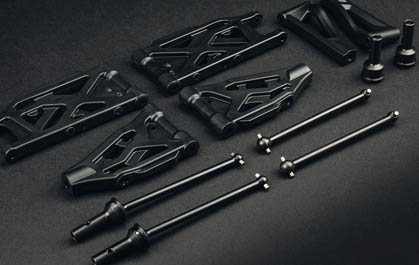 HEAVY DUTY
Tough A-arms and drivetrain components that keep you bashing for longer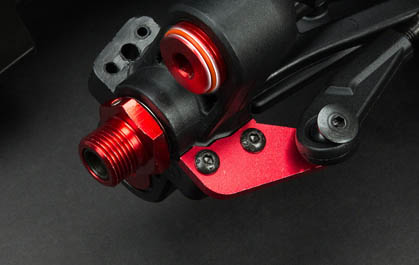 CAPTURED & SEALED
Captured ball ends that will never pop off and hub nut o-rings.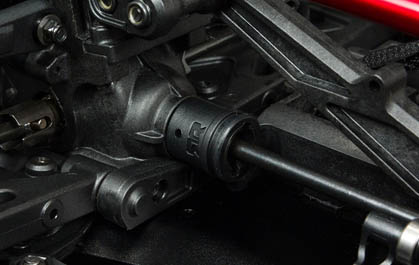 SAFE-D FIRST
Input gears are keyed to the drive cups composite sleeves to fortify the retention of the drive cup set screw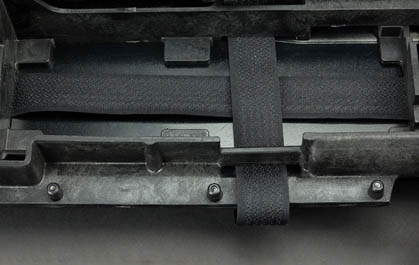 HAVING IT LARGE
Large battery trays allow you to fit up to 7.09″ (180mm) x 2.17″ (55mm) x 2.76″ (70mm) size batteries
ARRMA ADS-15M SERVO
Strong, metal gears used throughout
Waterproof, dustproof case
25 tooth output spline
Torque: 14kg-cm (194oz-in) @6V
Speed: 0.16sec/60deg @6V
Dimensions: 40x38x20mm (industry standard size)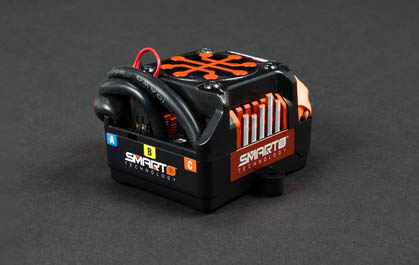 SPEKTRUM FIRMA ESC
Waterproof, dustproof design
150A, 6S LiPo ready (3S, 4S, & 6S compatible)
Spektrum Smart Technology
Fitted with reliable IC5 connectors (EC5 compatible)
Integrated fan for reduced heat during extreme running
High Quality 10awg wires
Low voltage cut-off and thermal overload protection
User programmable punch, brake, BEC, LVC sensitivity, reverse speed, and motor timing settings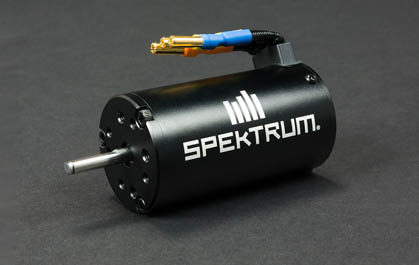 SPEKTRUM FIRMA MOTOR
2050Kv 4074 size 6S brushless motor
Beautifully etched aluminum can
4-pole construction for smooth, consistent power
4mm gold bullet connectors for reliable and efficient connection
Black anodized aluminum motor can for increased heat dissipation
Super strong 5mm shaft
Groove at the end of the motor shaft allows the installation of a pinion retaining E-clip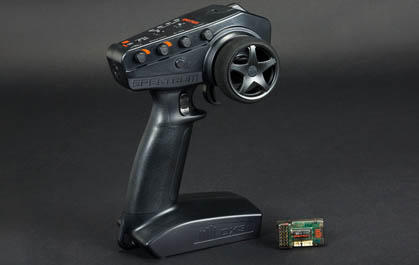 SPEKTRUM DX3 RADIO & SR6110AT AVC RECEIVER
Ergonomic steering wheel for precise control
On-the-fly adjustable AVC gain for personalized handling
Lightweight and ergonomic design for long bashing
3 channel radio system
2.4GHz connection built around DSMR technology
Full-range telemetry capabilities