FEATURES
Spektrum™ Firma® 160 Amp Brushless Smart ESC
Spektrum Firma 4-Pole 780Kv Brushless Motor
Spektrum DX3™ radio system
Spektrum S906 1/5th Scale Metal Gear Servo
Waterproof Components
Aluminum Shock Towers
Aluminum Center Diff Cup
Radio Tray designed for use with single or dual steering servos.
Heavy Duty Drivetrain with 5mm drive pins
Electric Chassis specific chassis braces for increased durability and strength
Updated ESC Mount
Pinned Center Outdrive Cups
Gearboxes updated for improved drivetrain strength and stability
Steering Rack with a helical servo saver design
Updated Front and Rear Bulkheads
Maxxis Creepy Crawler LT Tires
Losi and Fox Shox race-inspired Motorsports themed livery
Laser Etched FOX Logo Shock Caps
Roof-mounted LED bar
OVERVIEW
The original DBXL-E set the world on fire as the go-to vehicle for large scale bashers and enthusiasts alike. Its agile handling, out of the box speeds and durability make it a fan favorite. Now the Losi® DBXL-E 2.0 continues to build on the legendary status! Known worldwide for their dominance in the gas 1/5 market, especially with the 5IVE-T 2.0, Losi has built the DBXL-E 2.0 to be cleaner and easier to use, but with performance and speed that outruns the competition. At home in any environment from dirt to pavement, wet or dry, especially with its 4WD drivetrain with larger 5mm drive pins, the desert buggy makes sure all the power is put to the ground. Drivers stay in control with a DX3™ transmitter, a Spektrum SR6100AT 6 Channel AVC® Telemetry Surface Receiver, and scale-to-size Maxxis Creepy Crawler LT tires. This desert buggy features all the technological advances drivers demand including the Spektrum Firma® 160 Amp Brushless Smart ESC and Spektrum Firma 4-Pole 780Kv Brushless Motor allowing you to hit 50+ MPH with an 8 cell LiPo battery. Finally, the DBXL-E 2.0 has a Losi and Fox Shox race-inspired motorsports themed livery for that true off-road look. You get all this and more from the brand that represents the pinnacle of performance.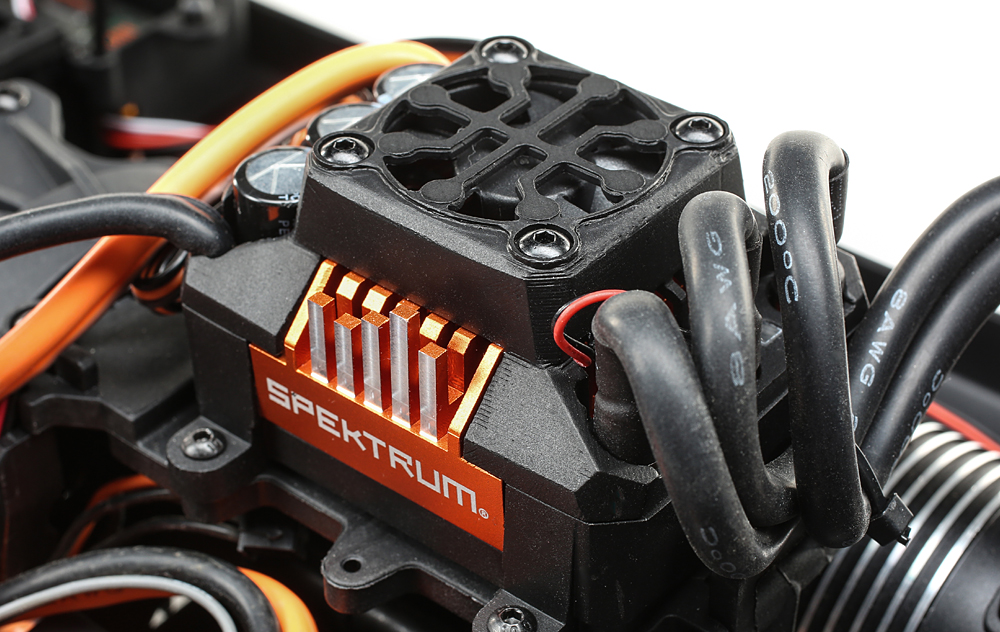 Spektrum™ Firma® 160 Amp Brushless Smart ESC
The ESC is waterproof, completely programmable, and comes pre-wired with a high-current IC5 connector. The ESC will work with most sensorless brushless motors and is Li-Po and Ni-MH compatible. The Smart technology provides information like battery voltage, RPM, RX pack Voltage, and Speed directly from the ESC when used with the Spektrum Dashboard app.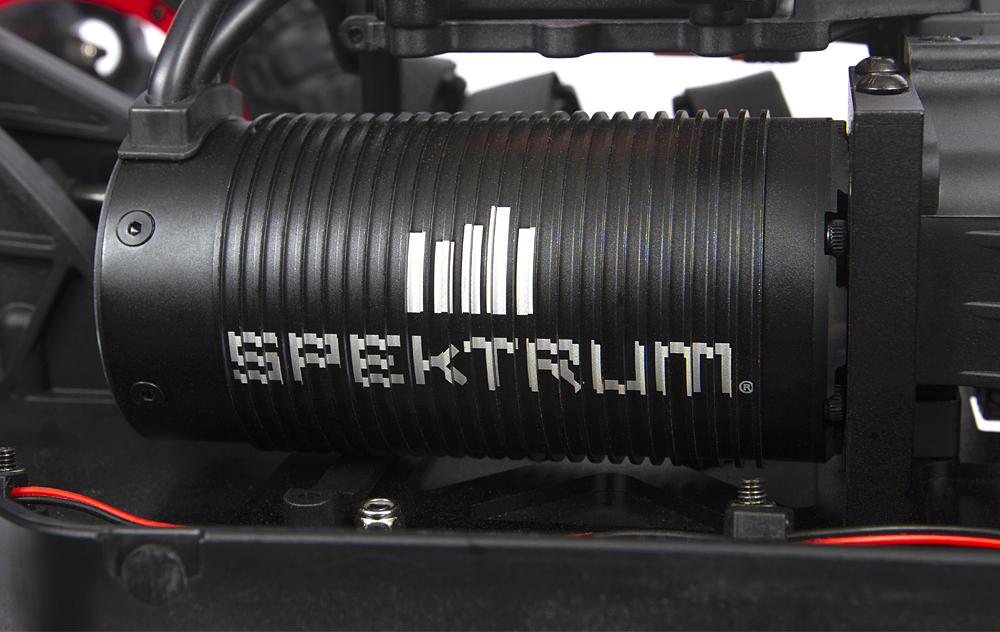 50+ MPH Spektrum Firma 4-Pole 780Kv Brushless Motor
The brushless ESC and motor provide wicked power with an 8s LiPo battery (not included) that will blaze speeds of 50+ MPH.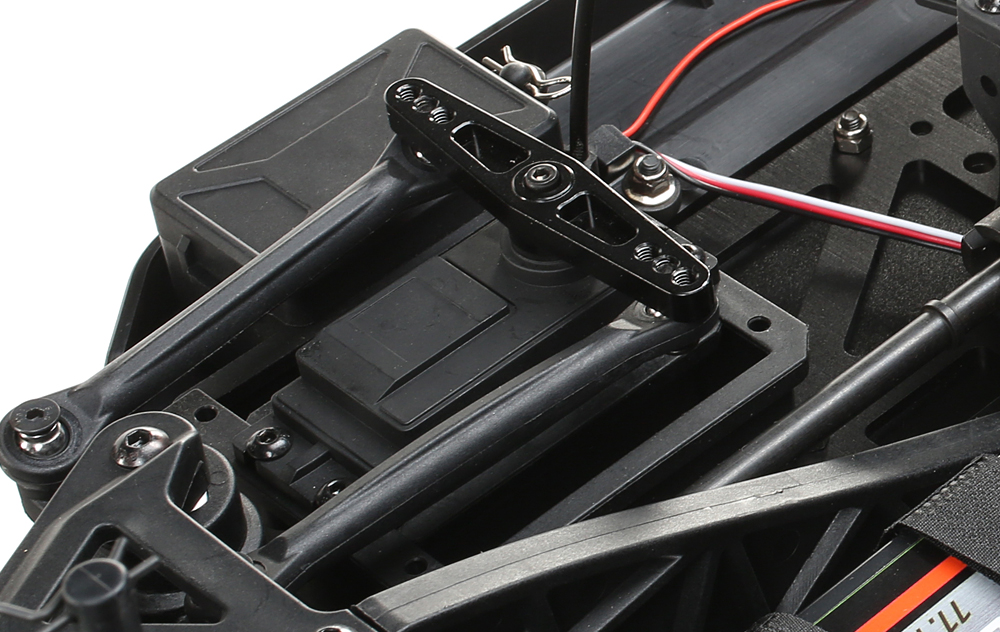 Spektrum S906 1/5th scale metal gear servo
New 30-kg HV rated Hi Torque Metal Gear Servo.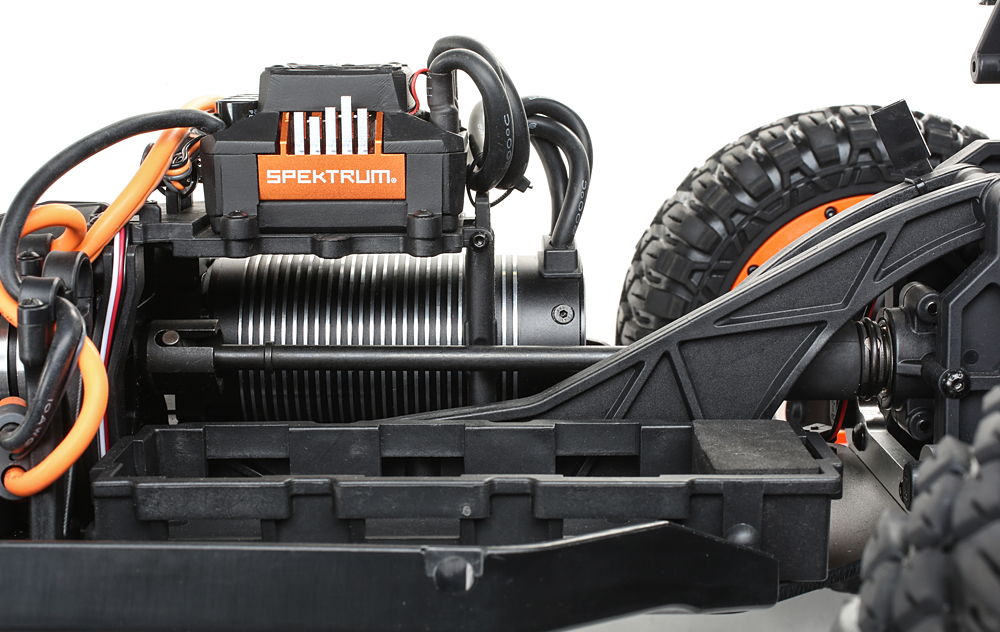 New Chassis Braces
In addition to the chassis stiffening plate, we have also added an additional electric specific rear chassis brace that goes all the way up to the center diff mount to increase the rigidity of the chassis.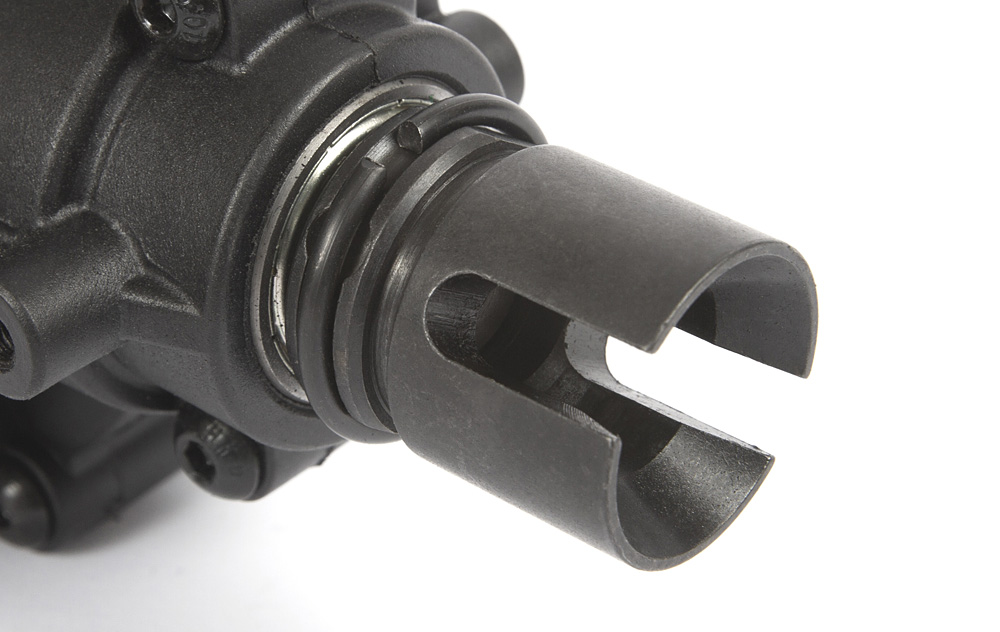 Pinned Center Outdrive Cups
New Center Outdrive cups now have a retaining pin through the pinion gear to keep the out drive cup from coming off.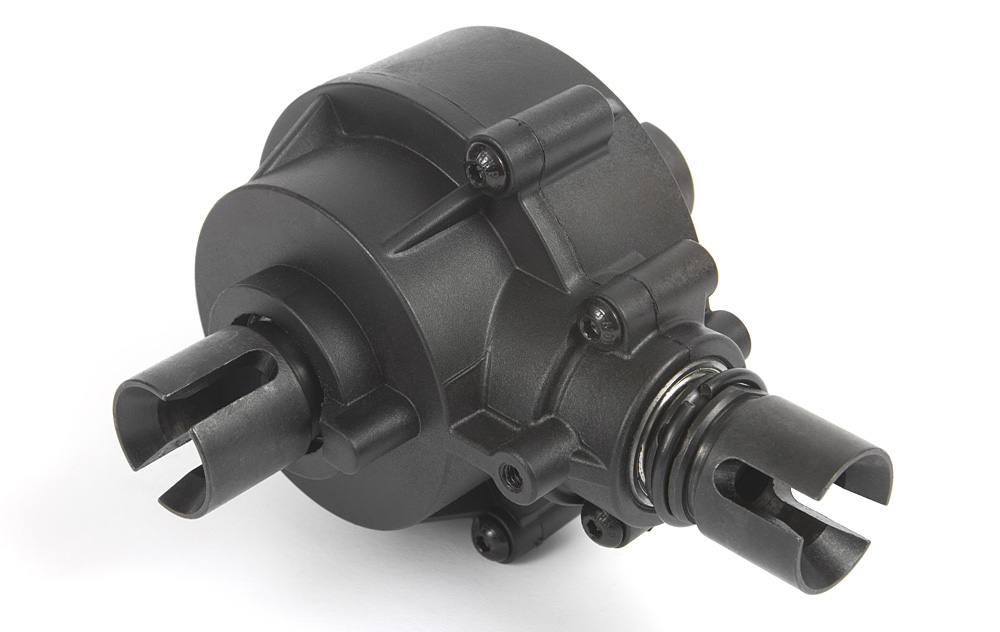 New Gearboxes
The new gearboxes improve drivetrain strength and stability.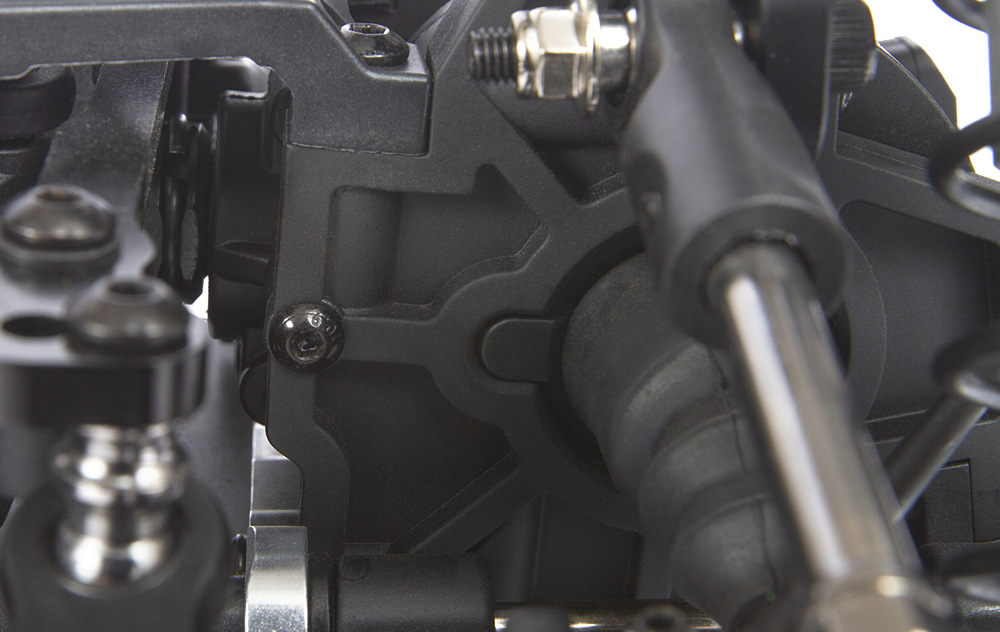 Updated Front and Rear Bulkheads
The front and rear bulkheads have been updated to match the new gearboxes designed for the DBXL-E 2.0. Two additional mounting locations were added to the side of the bulkheads to keep the gearboxes from rocking up and down under acceleration and braking. This provides a more stable drivetrain, and increased overall durability.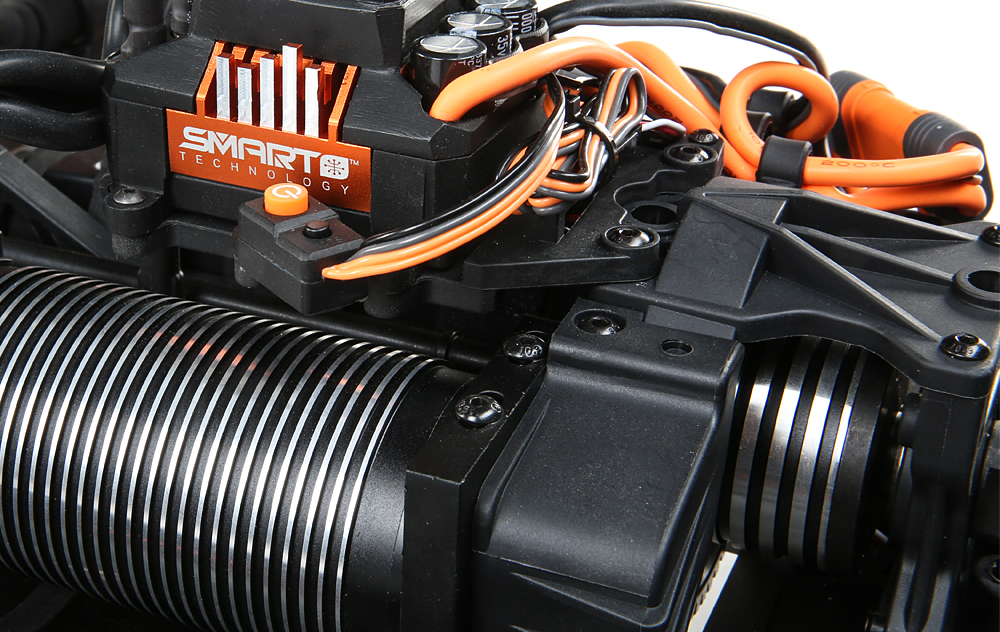 Aluminum Center Diff Cup
Returning from the original DBXL-E is the aluminum diff cup used in the center differential. Today's brushless motors produce so much power, that you need to have the added strength and durability in the center diff that only an aluminum diff cup can provide.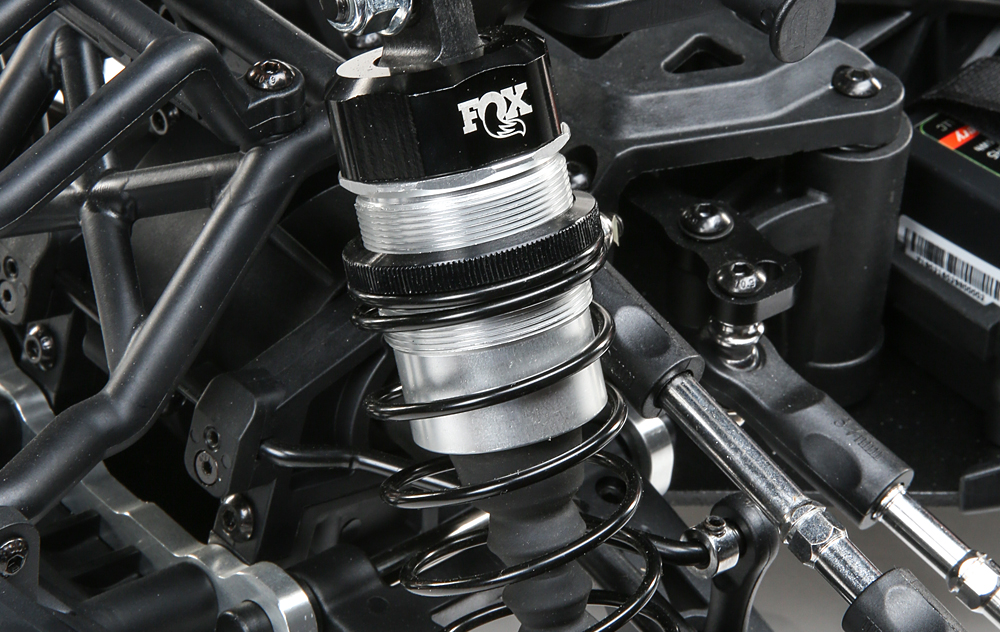 New Shocks with Laser Etched FOX Logo Shock Caps
New shock bodies with a lower aluminum cap that allows for easier maintenance of the shock seals for improved performance. Sometimes, it is about the details. New upper shock caps with laser etched FOX logo set off that race inspired look.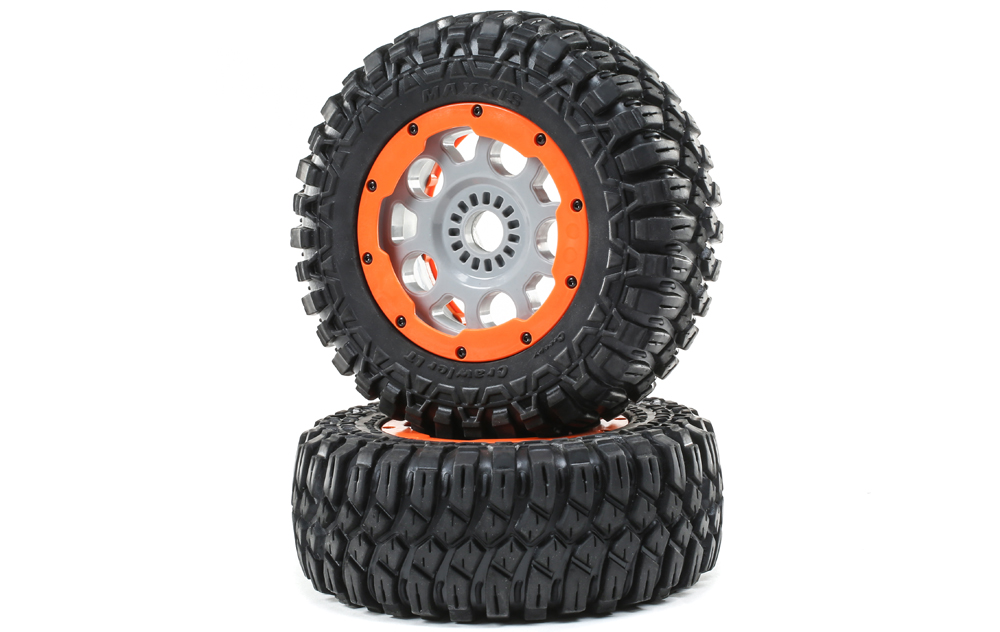 MAXXIS Creepy Crawler Tires with Authentic Bead Lock Wheels
Genuine MAXXIS creepy crawler tread pattern tires provide added traction and offer extra control so you can stop, turn and swerve like a pro. Have confidence your tires will never come unglued and make tires changes a breeze with authentic bead lock wheels.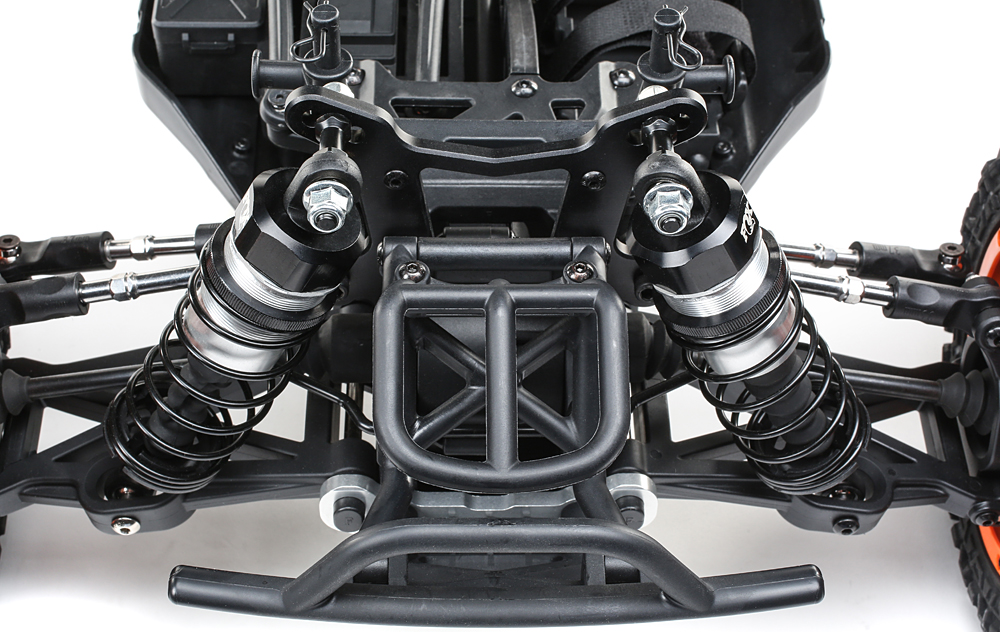 Aluminum Shock Towers
We couldn't just stop at the shocks. The DBXL-E 2.0 gets all new Aluminum Shock Towers Front and rear with revised camber mounting locations for improved stability and handling.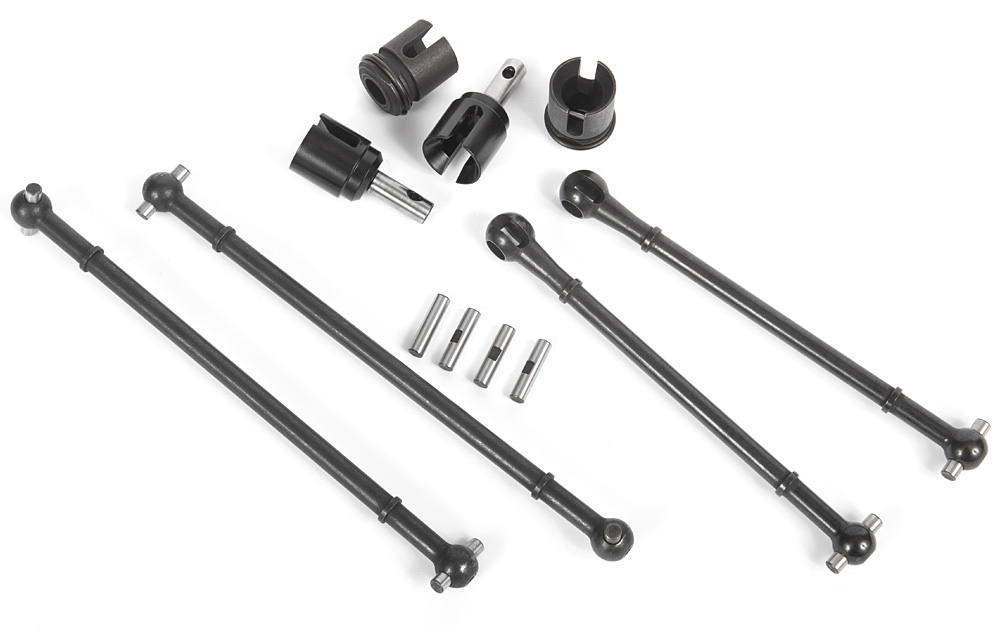 Heavy Duty Drivetrain
Increased the size of the out drives and drive shaft to support a larger 5mm drive pin for increased strength and durability.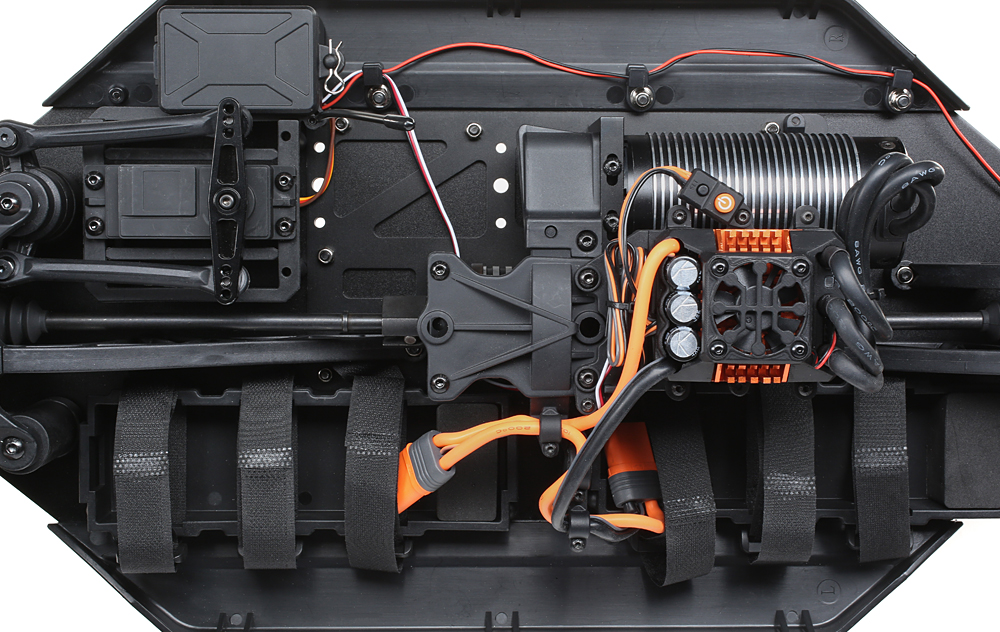 New Radio Tray
All new radio tray with sealed receiver box. The new radio tray allows for multiple steering servo configurations. Can be run as a single servo, or updated to run dual steering servos for maximum steering performance.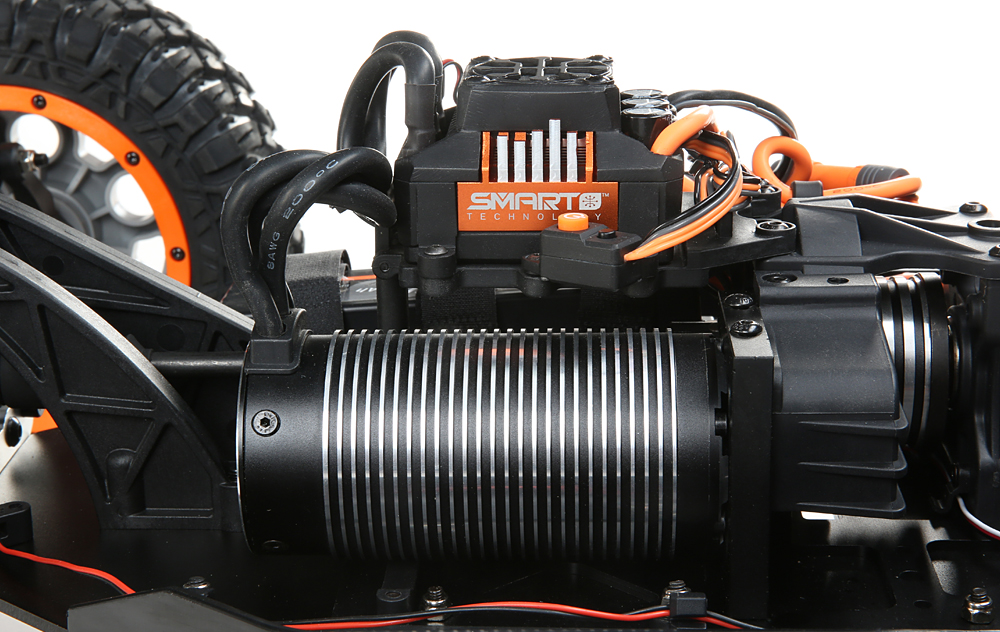 New ESC Mount
To create space for the larger battery trays, we needed to find a new home for the ESC. The ESC has been relocated to a mounting plate off the center differential. This allows for optimal weight distribution within the car, while increasing the air flow over the top of the ESC for better running performance.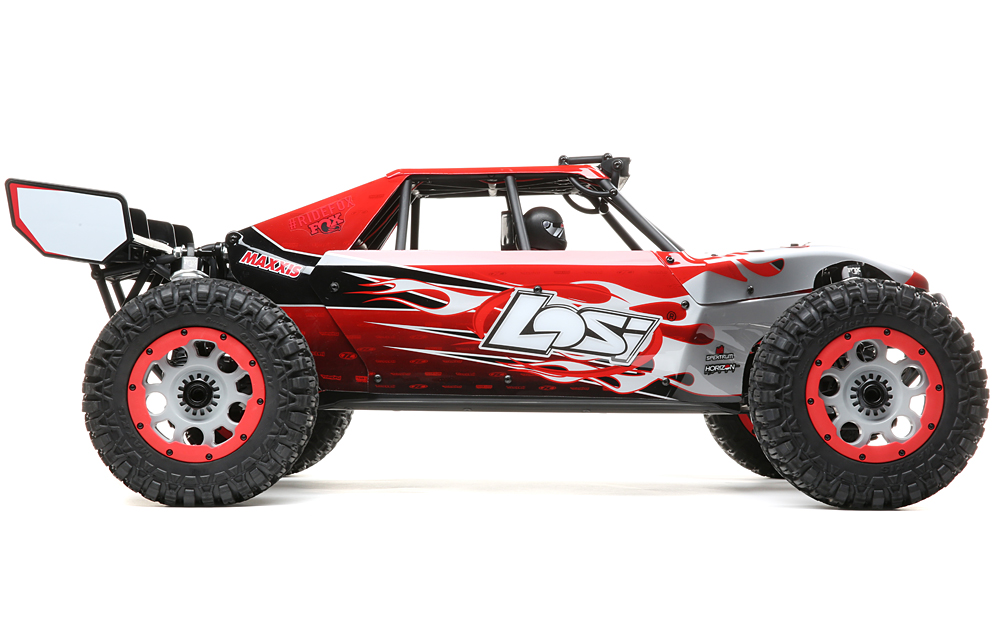 New Race Themed Livery
New Fox Shox race inspired Motorsports themed livery for that true off-road look, along with an awesome Losi flame design trim scheme.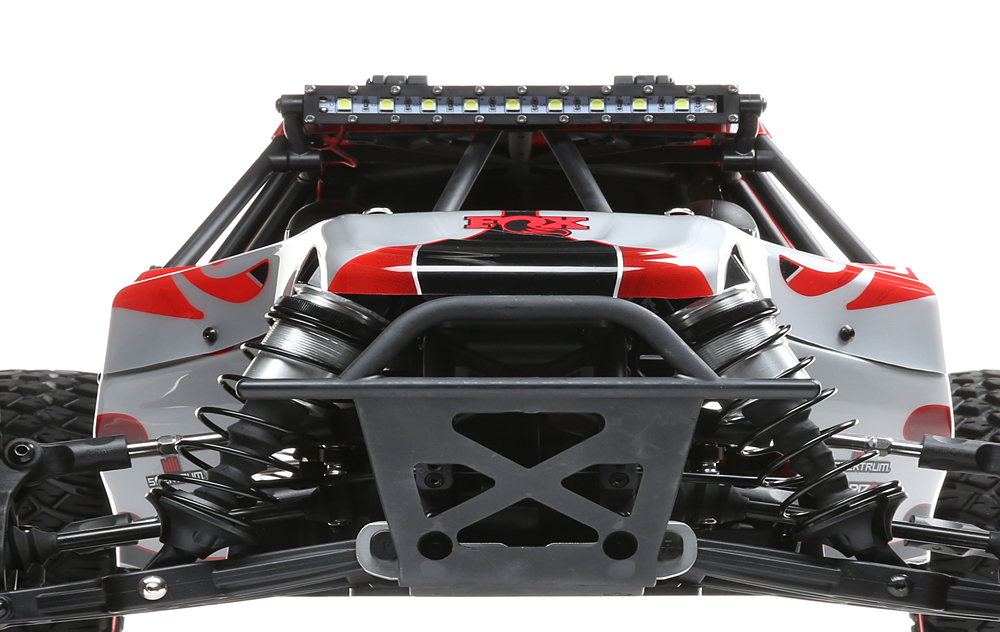 LED Light Bar
The roof mounted LED Light bar from the original DBXL-E returns to continue lighting the way for endless adventures.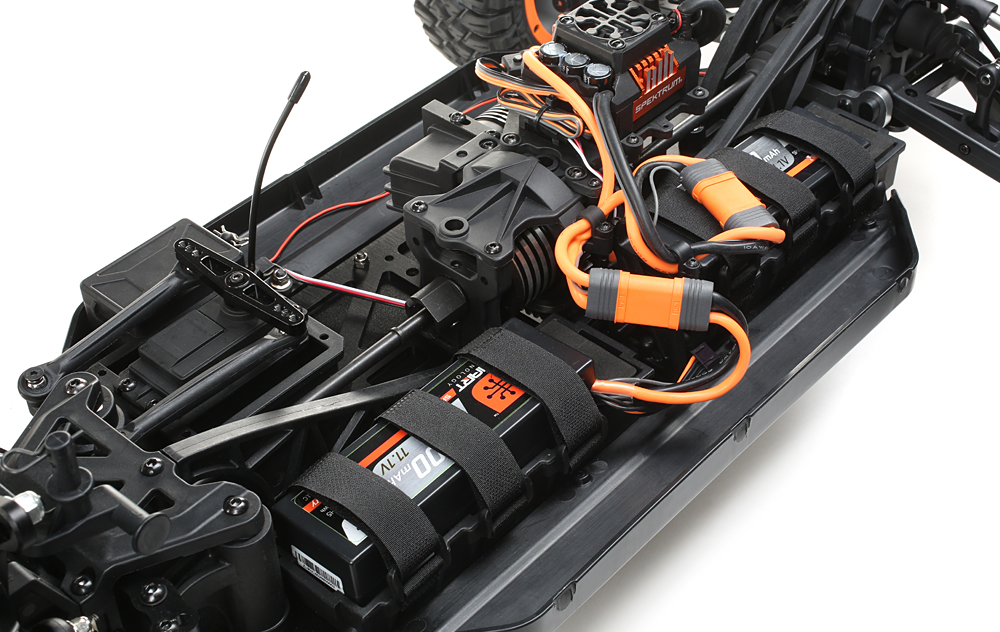 Waterproof Electronics
The DBXL-E 2.0 is loaded with waterproof electronics including the receiver, servo and ESC. Everything is sealed against the elements allowing you to splash in the rain, spin in the mud and make tracks in the snow. It's full-throttle freedom to run anytime, rain or shine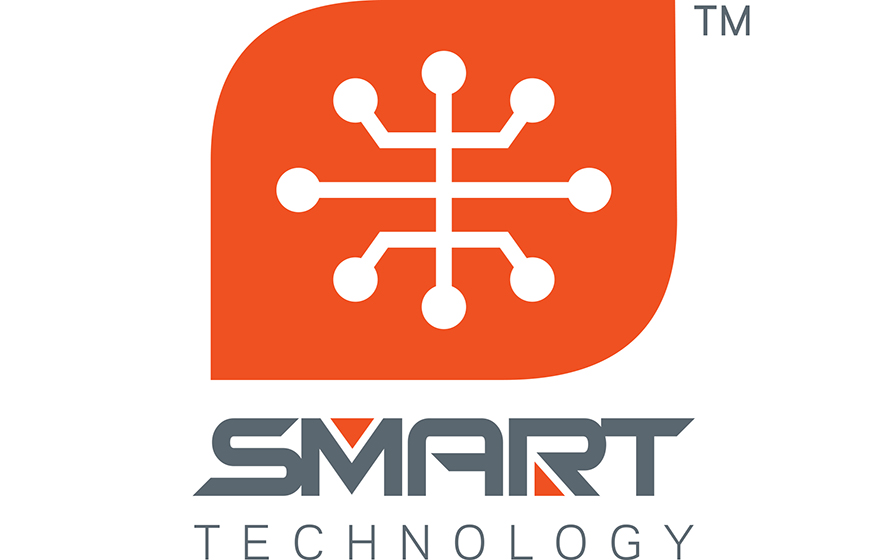 Spektrum™ Smart Technology
Spektrum Smart technology is about offering a higher connection to your hobby. It's a connection that puts you in complete control, makes you more aware and more confident about the capability of your equipment—all while making vital components of your model easier to use than ever before. Click on the link below to find out how your Spektrum Smart ESC can feed telemetry directly to the optional Dash Board App and how Spektrum Smart batteries and charging can take you to the next level.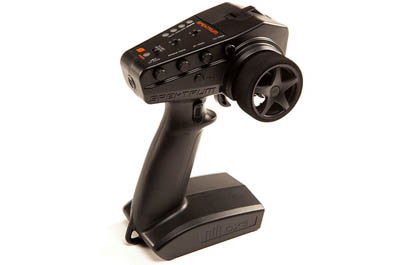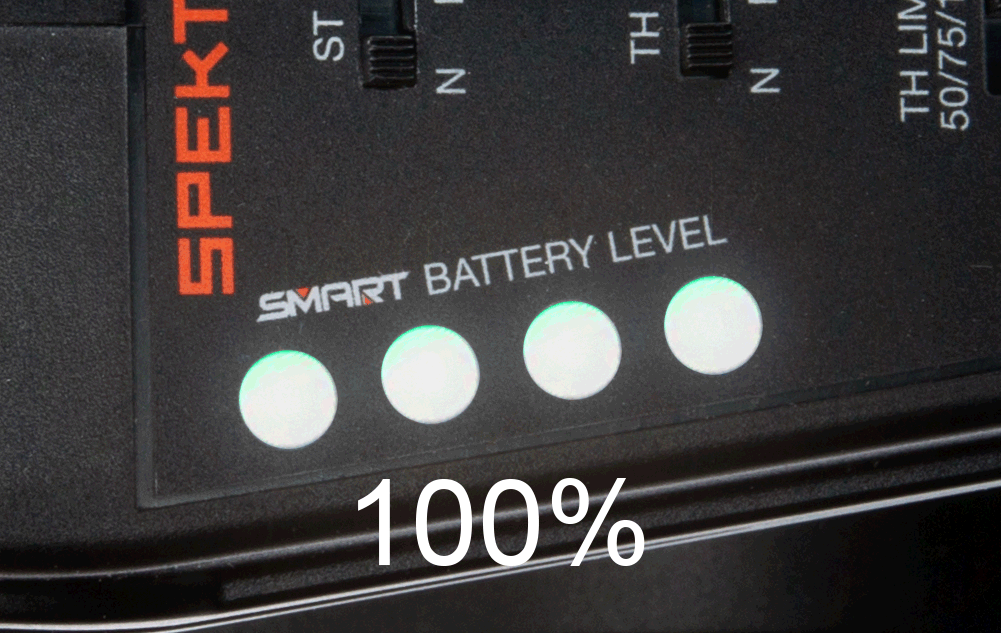 Spektrum™ DX3™ Radio System
The Spektrum™ DX3™ radio system offers advanced features like AVC control, a 3-position throttle limiting switch and travel adjust. It features exclusive DSMR® technology for superior range, response, and interference resistance. It's also fully compatible with the Smart telemetry potential provided by the vehicle's installed Spektrum Firma™ Smart 40A ESC/receiver, and has a convenient voltage level indicator for any Spektrum Smart batteries!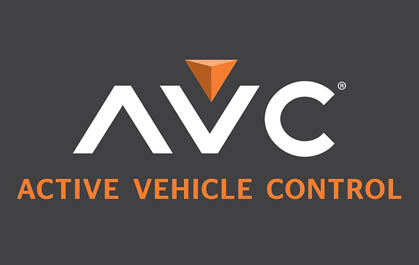 The Full-Throttle Freedom of AVC® Technology
The receiver's built-in AVC® (Active Vehicle Control®) traction control system works behind the scenes, making hundreds of throttle and steering adjustments per second, so more of the motor's power is translated into ballistic speed and acceleration instead of just flying dirt. The patent-pending AVC system adds a level of performance that simply cannot be found with any vehicle from any manufacturer other than Horizon Hobby. Like traction control in your full-scale vehicle, you can activate or deactivate the system on the fly and adjust the level of stability based on driving conditions. Any RC vehicle can go fast and with AVC you can go faster while maintaining optimum stability in all driving conditions.