The evolution of the Outback trail chassis hits new heights with the new Hi-Rock edition from FTX. As trail and crawler fans continue to crave both scale performance and scale looks, we have looked to address both with the Hi-Rock.
Featuring a new split transmission, the motor is now mounted directly above the front axle alongside the steering servo providing extra weight up front for better traction when climbing ascents. The steering angle has been increased to a 45° angle for further improved trail maneuverability. An adjustable drivetrain slipper can be set to protect the transmission and driveshafts in the event of a lock up, while internal axle and gearbox metal gears provide long term durability.
The split transmission layout provides a much lower centre section allowing for aftermarket interiors to be mounted for added scale realism. The moulded side chassis plates have aluminium plates on the exterior while the inner plates provide protection from the elements as well as mounting receiver and Hobbywing speed control. The moulded receiver box features additional plug in ports for LED lights and aftermarket winches.
The classic pick-up inspired bodyshell comes complete with moulded accessories such as front grill & LED light buckets, snorkel, mirrors, wipers, roll bar cage and spotlights (for optional LED's). Front and rear bumpers feature mounted LED lights and tow hooks to top off that scale look.
Take to the trails and raise the bar with the FTX Outback Hi-Rock!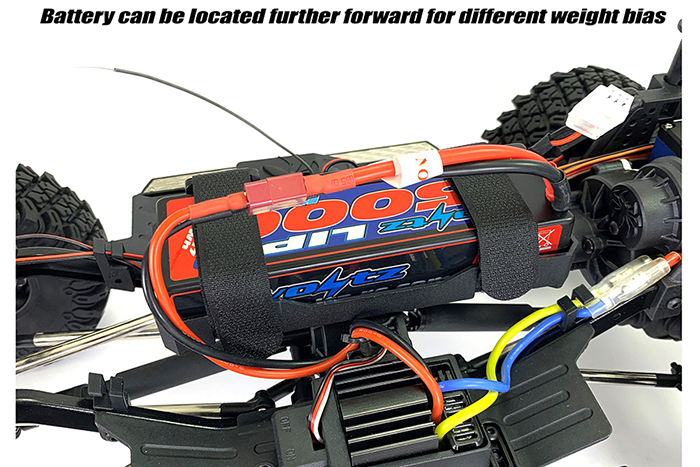 Features
99% Ready-to-Run
4ch 2.4ghz radio for lights & winch options
Hobbywing HW1040 40A Waterproof ESC
15kg metal geared waterproof servo
550 brushed 17 Turn motor
7.2v 2000mah NiMH battery & charger
Ball bearings
Twin rail metal frame chassis
6mm steel multi-link suspension
Telescopic universal driveshafts
Steel CVA front universal driveshafts
Oil filled shock absorbers
Metal axle & transmission gears
Front & rear high clearance locked axles
Adjustable central footplate for ESC & receiver mounting
Receiver box with external third & forth channel ports for options such as LED, sound module or winch
Split transmission system for better low-speed torque output
Lower mid section accommodates interiors
Transmission slipper clutch
Raised chassis mounted steering servo & panhard bar
Front mounted motor for better weight bias
Scale styled wheels
High grip all terrain tyres
Scale looking front & rear bumpers with shackles & factory fitted LED lights
Scale side metal footplate
Moulded scale body accessories including snorkel, side mirrors & grill
Specifications
Length: 560mm
Width: 240mm
Height: 240mm
Weight: 2600g
Wheelbase: 313mm
Gear Ratio: 56.6:1 – 33.3:1
Tyre Diameter: 120mm
Wheel Diameter: 54mm
Ground Clearance: 80mm