FEATURES
Licensed Method Racing Beadlock Wheels
Licensed BFGoodrich Mud-Terrain T/A KM3
Bottom Loading Battery Tray
New Brenthel Body and Cage work with dual spare tires
AVC – Active Vehicle Control System
New Front Suspension Arms and Slider Front driveshafts
Long Travel Suspension
King Coil-Over Oil Filled Shocks with new springs
8S Capable Motor and ESC
Longer Rear Trailing arm with increased wheelbase
Shaft Driven 4wd Drivetrain
Updated HV capable S905 Lage Scale Steering Servo
New Front Bumper with realistic lower valance and Brenthel logo
New stiffer front sway bar
LED Lights
Scale Details
Spektrum™ DX3™ Radio System
OVERVIEW
The Losi® Super Baja Rey 2.0 with Spektrum™ Smart is the new standard in 1/6th-scale desert trucks. With powerful performance and incredible scale looks, the SBR 2.0 takes it to the next level! Taking the Super Rock Rey chassis, adding about an inch to the wheelbase and morphing it with the front end from the Super Baja Rey gets you the all new and improved Super Baja Rey 2.0! You get the best of both worlds! The Spektrum Firma™ SMART 160 Amp 8S ESC and 750kv Firma 1/6th 5687 brushless motor allow you to unlock blazing speeds. The bottom loading chassis makes battery changes a breeze. Front and rear LED light bars keep everything nice and bright for off-road adventures at night. Drivers stay in control with a DX3™ transmitter, a Spektrum 6100AT AVC® receiver with steering priority, and officially licensed Method Racing Beadlock Wheels and BFGoodrich Mud-Terrain T/A KM3 tires. The new Brenthel Trophy Truck body is modeled after their actual race truck providing an aggressive, scale-detailed look. The Losi® Super Baja Rey 2.0 is the ultimate desert truck with scale looks, insane speeds, performance and Spektrum Smart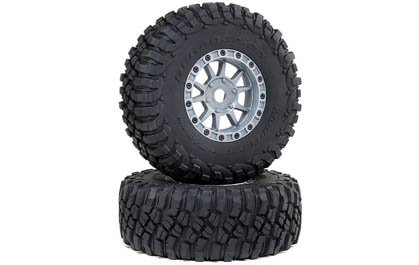 Officially Licensed Method Racing Beadlock Wheels
New 17mm hex licensed Method Racing Bead Lock Wheels allow you to replace and update the tire or foam inserts without damage to the tire or wheel.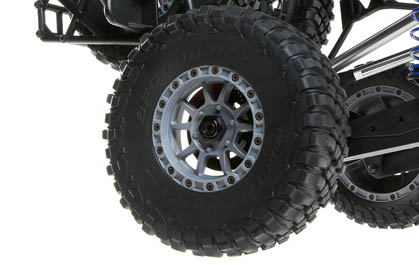 Officially Licensed BFGoodrich Mud-Terrain T/A KM3
BFGoodrich is synonymous with Off-Road Racing. New licensed bead-lock BFGoodrich Mud-Terrain T/A KM3 tires! It doesn't get any more official!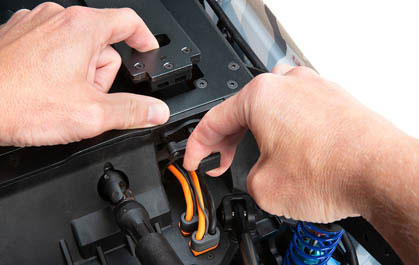 Bottom Loading Battery Tray
To help withstand the trials and tribulations of off-road driving, the Super Baja Rey desert truck incorporates our innovative bottom-loading battery system, which allows you to change the batteries without removing the body. Quickly and easily make battery changes without removing the body or wrestling with battery straps.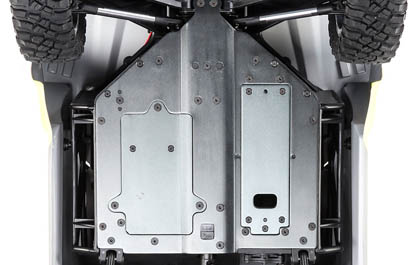 Aluminum Chassis
The foundation of the Super Baja Rey 2.0 consists of a 4mm, anodized aluminum chassis plate with a 4mm upper deck. For added durability and performance it's integrated with a realistic roll cage made of super-tough composite material. Whether you are hitting the whoops, getting huge air, or just wide open, the 4mm chassis just keeps asking for more!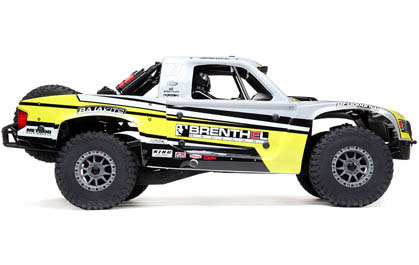 Officially Licensed Brenthel Trophy Truck Body
New Brenthel Trophy Truck body modeled after their actual race truck. The hood scoop and fender vents will provide an aggressive off-road look.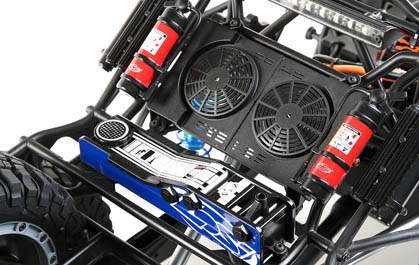 Scale Details
You also get a molded interior that includes a driver and co-driver, both of which sport racing helmet and harness details. Along with scale detail accents like fire extinguishers, shock reservoirs, fans and a jack.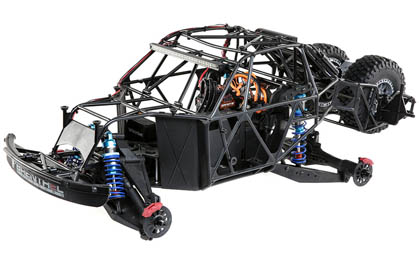 Full Bodied Roll Cage
Just like the 1:1 desert trucks, the Super Baja Rey 2.0 comes with a super-rigid roll cage made of super-tough composite material that enhances the truck's scale looks and durability. It is integrated with the 4mm anodized aluminum chassis plate providing the ultimate protection for your truck and electronics.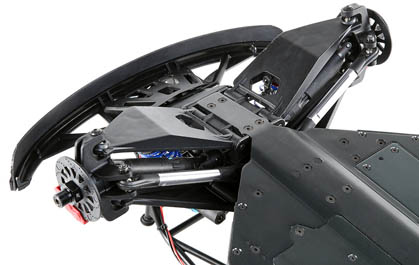 New Front Suspension Arms and Slider Front Driveshafts
The front suspension arms have been redesigned on the SBR 2.0 to accommodate the slider style front axles. This allows us to run more suspension travel so we can hit the roughest terrain.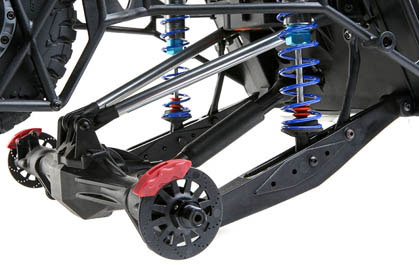 Long Travel 4-link Rear Axle
The Super Baja Rey 2.0 rear suspension allows it to soak up massive whoops and bumps with the same realistic handling and movement of a full-scale desert truck. You get better control and a more locked-in feel regardless of the terrain.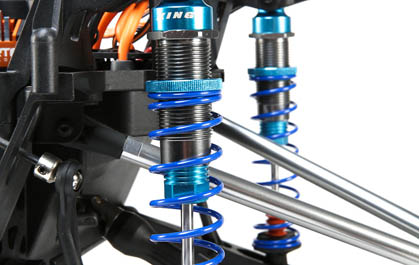 Coil-Over Oil Filled Shocks
King Shocks long Travel Coil-Over Oil filled shocks with bump stops can handle anything you throw at the SBR 2.0. From hard pack to whoops, Small rollers to giant kickers, these shocks absorb it all!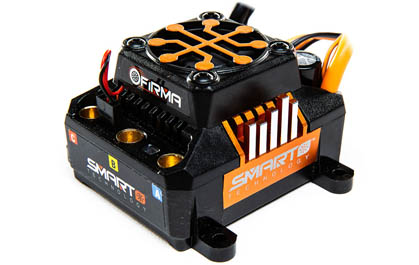 Spektrum Firma Smart 8S – Capable 160A Waterproof ESC
Firma Smart ESCs do much more than regulate power. They function like a virtual engineer inside your model, providing a direct path to the vital operating data you need to reach peak performance. Firma Smart ESCs give you an extra layer of confidence that your electronics are all operating at their best.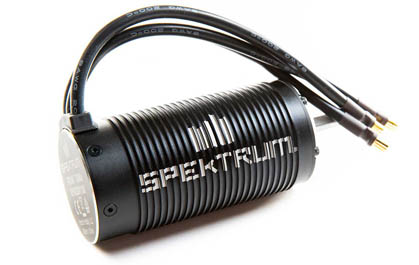 50+ MPH Spektrum Firma 8S 1/6 750Kv Brushless Motor
The brushless Spektrum Firma 4-Pole 750Kv 550 Motor will provide excellent power (50+ MPH) on 8S LiPo (not included).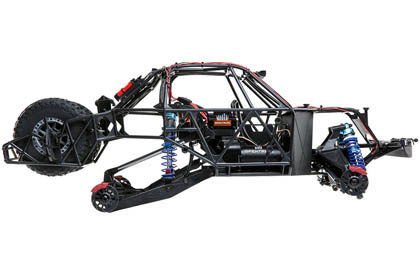 Longer Wheelbase and Rear Trailing Arm
New longer rear trailing arms increase the wheelbase and add stability over rough terrain at high speeds. This also provides additional suspension tuning options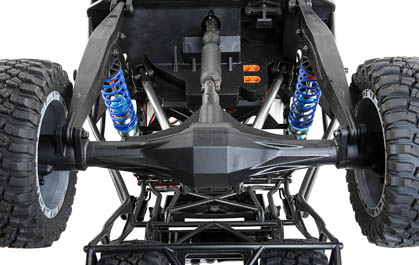 4X4 Driveline with Adjustable Differentials
Full-time four-wheel drive provides amazing traction. Additionally the front, center and rear differentials can be tuned allowing adjustment of the power bleed between the front and rear drivetrain. The power bleeds evenly front-to-rear and the truck will drive out of the turns harder from point to point. The tunable differentials allow you to dial in your truck for maximum performance and traction.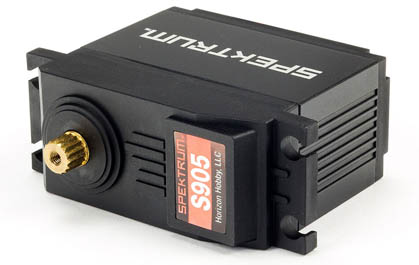 Large Scale Steering Servo
The new Spektrum S905 HV capable waterproof servo updates the SBR 2.0. The massive torque from this servo keeps you headed in the right direction.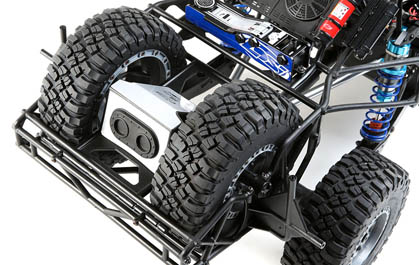 Dual Spare Tires
Blow out a tire out on the flats? No worries. The SBR 2.0 comes equipped with functional dual spare tires. Easily add the tire and get back to tackling the terrain.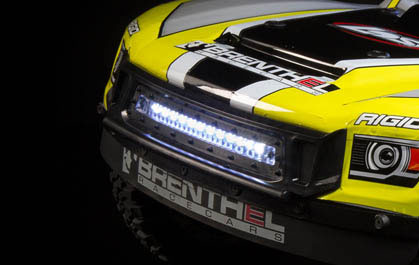 Front Grill Mounted LED Lights
The fun doesn't stop even when the sun goes down with the Super Baja Rey 2.0. Brilliant LED lights integrated into the front grill cast more than enough illumination for running at night.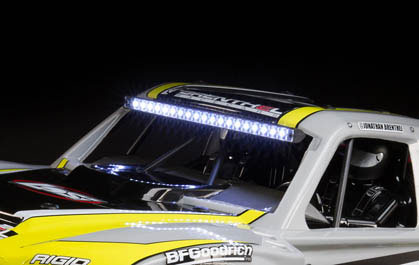 Front Roll Cage Mounted LED Lights
The LED's don't just stop at the front grill, as a larger set are mounted on the top of the roll cage just under the roof line.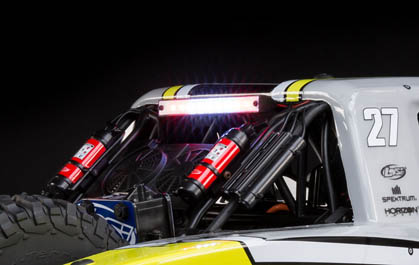 Rear Roll Cage Mounted LED Lights
Continue to light up the night even after you've blown by the competition.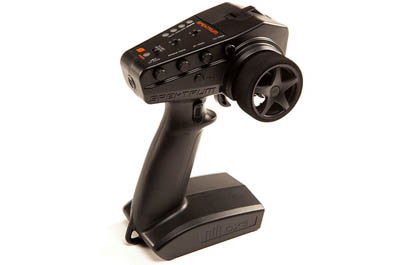 Spektrum™ DX3™ Radio System
The Spektrum™ DX3™ radio system offers advanced features like AVC control, a 3-position throttle limiting switch and travel adjust.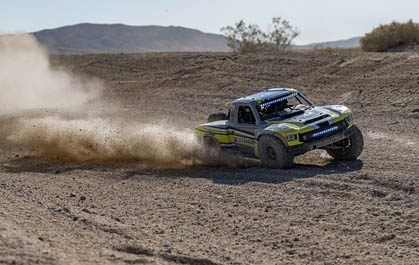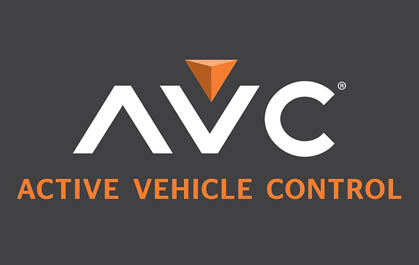 The Full-Throttle Freedom of AVC® Technology
The receiver's built-in AVC® (Active Vehicle Control®) traction control system works behind the scenes, making hundreds of throttle and steering adjustments per second, so more of the motor's power is translated into ballistic speed and acceleration instead of just flying dirt. The patent pending AVC system adds a level of performance that simply cannot be found with any vehicle from any manufacturer other than Horizon Hobby. Like traction control in your full-scale vehicle, you can activate or deactivate the system on the fly and adjust the level of stability based on driving conditions. Any RC vehicle can go fast and with AVC you can go faster while maintaining optimum stability in all driving conditions.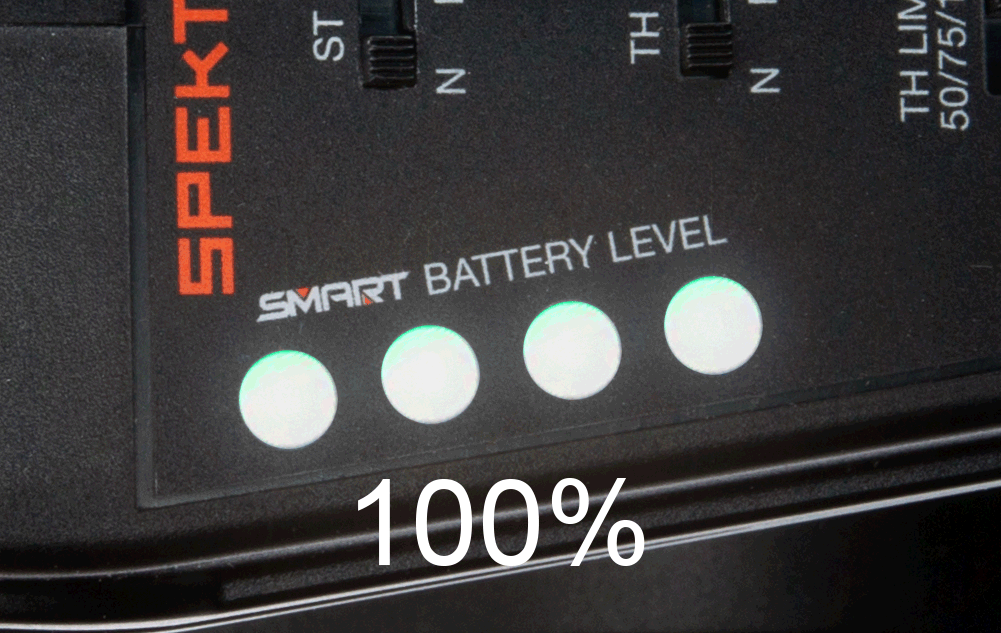 Smart Battery Voltage Indicator
The Smart Battery voltage indicator drivers can easily find out the charge of their Smart battery with a quick glance and once the battery level gets low, an alarm will sound. (Smart ESC and Smart Battery required)